LG Solar News LG Solar News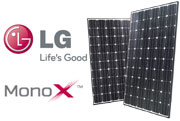 LG Solar panels suffered no potential-induced degredation (PID) in recent independent tests comparing panels from well-known manufacturers.
Potential-induced degretation (PID) is a loss in power production in solar panels caused by high negative voltages.
"The top rank in the PID test once again confirms the excellent quality and superior performance of our solar modules", says Michael Harre, Vice President of the EU Solar Group at LG Electronics. "We are very pleased with the result. At LG we're firmly convinced of the future of renewable energies, and that's why we're focusing systematically on the development of groundbreaking solar technologies."
Owen Morgan of Cambridge Solar stated: "This is great news for LG Solar as it shows their commitment to manufacturing high quality products is paying off - and is verified by an independant body. It is also great news for Cambridge Solar as it shows our producrement policy of putting time and effort into finding the very best products for our customers is working well."
Please get in touch with Cambridge Solar if you would like any further information.