Upsolar New quality solar panel selected by Cambridge Solar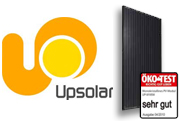 Cambridge Solar have selected Upsolar solar panels as a new addition to their portfolio of high quality solar panels.
Upsolar are an award winning solar panel manufacturer which has won international recognition for the quality of its product. One of only 7 panels to have been awarded the highest rating by the German Oko-test (equivanet to the UK's Which magazine), Upsolar offers the very best quality/cost ratio in the indusry. It has also been recognised for it business model being awarded 'Module Manufactureing Innovation Award' in 2011 and the 'Industy Development Award' in 2012.
Cambridge Solar's founder Owen Morgan said "UpSolar matches what we look for in a product and a manufacturer. The product itself is high quality and offers great performance with leading warranties as well as having extra aesthetic options like their all-black panel. The company is innovative, has a great business model are committed to the solar industry for the long term. At Cambridge Solar we are passionate above, obsesive even, about choosing only the very best products for our systems - UpSolar ticks all the boxes."
Find out more about UpSolar in our solar panels section.