Solar Panels Cambridge
Are you looking to install solar panels in Cambridge?
If you are thinking about installing solar panels at your home or office, Cambridge Solar is here to help.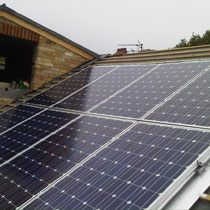 Due to the current financial incentives through the feed-in tariff, now is a perfect opportunity to generate your own renewable electricity from solar energy by installing solar panels on your property. Cambridge Solar are leading suppliers and installers of solar panels in Cambridge and the surrounding area.
We have been working in the solar panel industry for many years, something that most solar panel installers can't boast.
We have an experienced team of solar energy professionals who can help you with your solar panel enquiry. We will help you choose the correct solar panels for you and your property and then design a bespoke solar panel system for your specific needs. We guide you through the entire solar panel installation process ensuring that installation and receiving payments is as easy and straight forward as possible.
We are one of the only companies supplying solar panels in Cambridge, focusing on companies and individuals in and around the Cambridge area.
If you would like to find out more about installing solar panels at your home or business premises in the Cambridge area then please contact Cambridge Solar today.