Solar Panel installers in Luton
Solar Panel installers in Luton Luton
"Having finally decided to proceed with a solar PV system, I am glad that I chose Cambridge Solar to the job. The team installed the system promptly, despite some rough weather conditions, and with a degree of professionalism and attention to detail that can only inspire confidence. Owen Morgan oversaw the project from start to finish, and was particularly helpful in steering me through the feed-in tariff application process and in getting the inverter to communicate with the wireless router so that I can monitor my use of solar energy. I have no hesitation in recommending the company."
—Peter C. from Ipswich, generating solar energy at his home since March of 2017.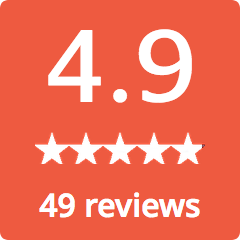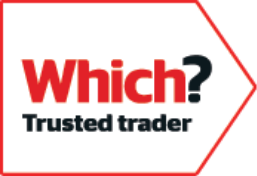 Cambridge Solar Ltd is rated 4.9 stars with 49 reviews on Which? Trusted Trader.
We're also rated 4.9 stars with 27 ratings on Google Reviews.
Feel free to browse more of our customer testimonials.
We're Local Experts
Here at Cambridge Solar, we are experts at designing and installing high quality solar panel systems for domestic and commercial customers. Our technical staff have designed solar panel systems that have been installed all over the world, and since 2009 our installation staff have installed hundreds of solar panel systems across East Anglia. Given this experience, we can say with confidence that Luton and the surrounding area is a great geographic location for generating energy from the sun.
Solar energy productivity in Luton
Many clients ask us if they will receive enough sunlight in the Luton area to generate electricity from solar photovoltaic panels. We're happy to say the answer is yes! Cambridge Solar Ltd is currently monitoring the productivity of the hundreds of systems that we've installed, and each site confirms that properly designed, high-quality systems provide great energy returns---on top of a reduced carbon footprint---to those who choose to invest.
Case study: a residential system in nearby Stevenage
In 2014, Cambridge Solar Ltd installed a 4.0 kWp system for a household in Stevenage. Three and a half years later, the solar system has provided the home with over 10 MWh of energy, and over £1800 of revenue. Plus, electricity generated from this system has saved over 4000 kg in CO2 emissions that would otherwise be needed to power the home, equivalent to planting 13 trees. The system's actual productivity during 2016 is shown here: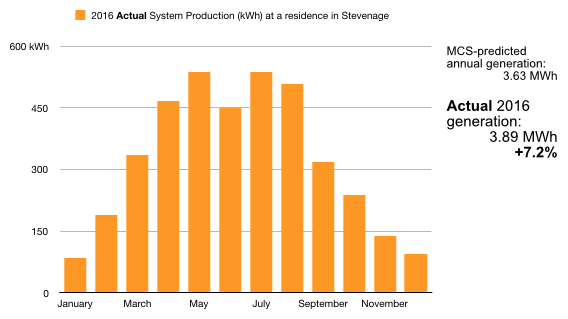 Every site proposal we prepare includes an MCS-approved estimate of the power generated. This residential system in Stevenage exceeded the MCS-approved estimate by 7% in 2016. We pride ourselves in helping customers choose the best system for the needs, but we also strive for excellence beyond optimizing system efficiency---we're only satisfied if our clients would be willing to recommend our services to their friends. To see local reviews of our service, please visit our page at Which Trusted Trader [1], where we are rated 4.9 stars with over 45 reviews.
Consistent Results
Cambridge Solar Ltd is monitoring a large number solar panel systems, both domestic and commercial, across the UK. This gives us great insight into energy production in different geographic areas. We combine this detailed electricity generation data with the available scientific data to provide a complete profile of the available energy from the sun at specific locations.
The amount of energy from the sun that strikes the earth is called solar irradiance, measured in power per unit of area. Luton receives a daily average solar irradiance of 3.5 kWh of power per square meter, per day [2]. That means you'll have plenty of available solar energy to convert into electricity for your home, business, school, or other site. While your site may need to remain connected to the grid, many of our grid-connected clients are surprised by how much of their yearly energy consumption is completely offset by their solar system.
Join a Growing Movement
A growing number of families, schools, business, and others have chosen to generate their electricity from the sun [3, 4]. As solar energy systems have become cheaper and more efficient, larger-scale solar farms that provide electricity to the grid have been going online throughout the UK, including the 21 MW North Clayhill site in Bedforshire, installed in 2016 [5]. Cambridge Solar Ltd offers a range of the latest, most effective solar technologies to address any renewable energy goal. Contact us today to schedule a site survey and begin your journey.
Solar Irradiance
The amount of daily sunlight that reaches a particular place on the surface of the earth depends on the latitude of the place, and the time of year. With our northerly latitude here in the UK, we have a wider range of seasonal sun energy than locations along the equator [6]. That means our summer days are much longer, and thus more productive for solar panels. You can see our longer summer sunlight in the plot below, comparing the solar irradiance during the summer months for Luton (52 degress north of the equator) and Kuala Lumpur, Malaysia (3 degrees north of the equator).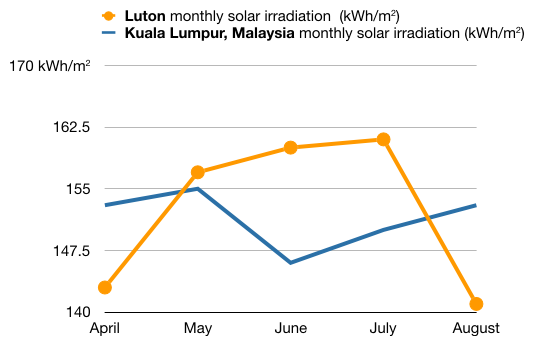 The plot above shows how Luton receives more energy from the sun during the summer than a location quite near the equator. Of course, during the winter, we receive less sunlight, some of which is obscured by cloud cover. Nonetheless, our cumulative annual solar irradiance at this latitude is solid. In fact, as shown in the map below, the East Anglia area receives significantly more sun energy than the west and north of the UK, which are more often obscured by cloud cover.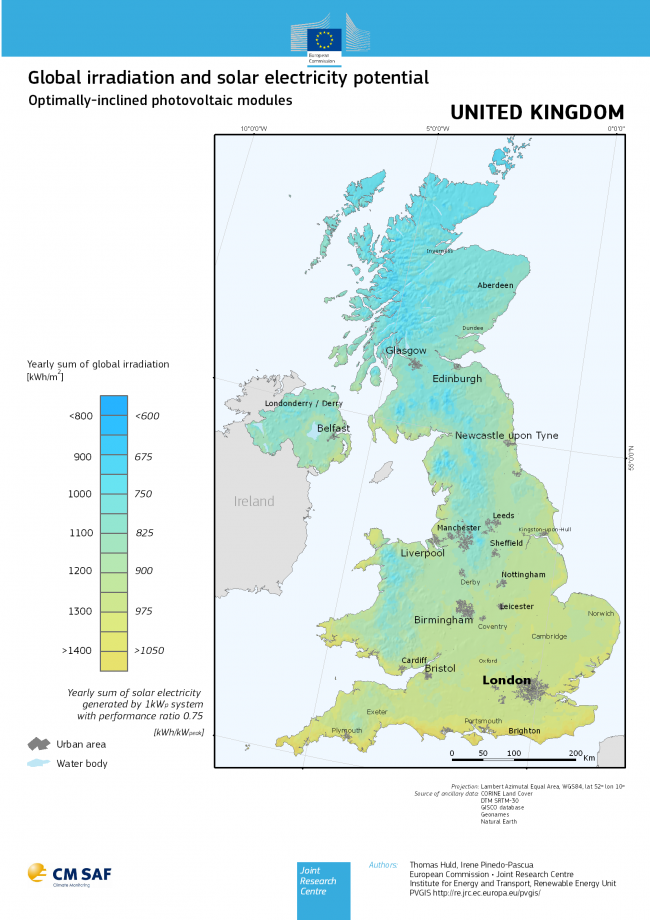 When analyzing a new site, Cambridge Solar Ltd measures latitude, roof angle, shading, and other factors to provide a customized solar trajectory plot so our clients will have the best available estimate for how much solar energy they can produce at their location. Contact us today to schedule a site survey.
A Sound Investment
As an MCS-approved solar panel installer, Cambridge Solar Ltd follows the industry standard, best practices for determining how quickly your solar system will pay for itself in energy savings[7]. Our project proposals show the amount of money you can expect to generate from the Feed-In Tariff scheme [8, 9], plus the amount of money saved by not purchasing electricity from the grid. In our experience with hundreds of systems since 2009, we've found that many high-quality installations even exceed their expected financial returns, paying for themselves in less than half of their warrantied lifetime. See what options best suit your site by scheduling a site survey with us today.