Solar Panel installers in Milton Keynes
Solar Panel installers in Milton Keynes Milton Keynes
"I have found the team at Cambridge solar to be both friendly and professional, the installation went smoothly and the panels have been generating without an issue ever since they were installed in 2015. I would have no reservation in recommending the company to all concerned."
—Rob F. from Bedford, generating solar energy at his home since March of 2015.

"We had a good initial interview with Owen who showed us a CAD design layout of the proposed solar panels and gave us a accurate price estimate. Installation was completed professionally. Also had a Power Reducer installed to heat hot water thereby reducing amount of excess electricity being diverted back to the grid. FiT payment and energy savings estimate were pretty accurate and we are enjoying the savings made from the solar panels as well as the quarterly cash we receive in FiT payments. The Solar panel industry has been hit hard by the sharply reduced FiT payments since January, but hopefully Cambridge Solar will be around for a long time because they are an honest and reliable company, who I am happy to recommend."
—Ian W. from St Neots, generating solar energy at his home since June of 2014.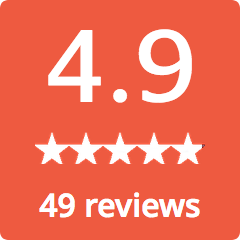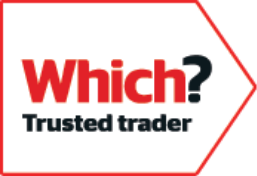 Cambridge Solar Ltd is rated 4.9 stars with 49 reviews on Which? Trusted Trader.
We're also rated 4.9 stars with 27 ratings on Google Reviews.
Feel free to browse more of our customer testimonials.
We're Local Experts
Here at Cambridge Solar Ltd, we are experts at designing and installing high quality solar panel systems for domestic and commercial customers. Our technical staff have designed solar panel systems that have been installed all over the world, and since 2009 our installation staff have installed hundreds of solar panel systems across East Anglia. Given this experience, we can say with confidence that Milton Keynes and the surrounding area is a great geographic location for generating energy from the sun.
Solar energy productivity in Milton Keynes
Many clients ask us if they will receive enough sunlight in the Milton Keynes area to generate electricity from solar photovoltaic panels. We're happy to say the answer is yes! Cambridge Solar Ltd is currently monitoring the productivity of the hundreds of systems that we've installed, and each site confirms that properly designed, high-quality systems provide great energy returns---on top of a reduced carbon footprint---to those who choose to invest.
Case study: a residential system in nearby Bedford
In 2015, Rob F. invested in a 2.75 kWp system for his home in Bedford. Since then, his system has outperformed the MCS-standard estimate by over 10%, generating plenty of clean electricity for his home while operating smoothly in the background, with no maintenance needed. The system's actual productivity during 2016 is shown here: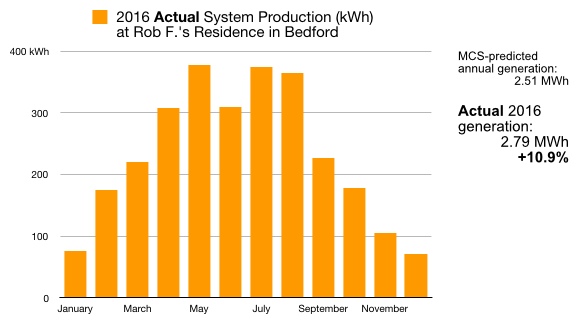 We pride ourselves in helping customers choose the best system for the needs, but we also strive for excellence beyond our technical advice---we're only satisfied if our clients would be willing to recommend our services to their friends. On that matter, here's how Rob F. in Bedford reviewed his experience: "I have found the team at Cambridge solar to be both friendly and professional, the installation went smoothly and the panels have been generating without an issue ever since they were installed in 2015. I would have no reservation in recommending the company to all concerned."
Consistent Results
Cambridge Solar Ltd is monitoring a large number solar panel systems, both domestic and commercial, across the UK. This gives us great insight into energy production in different geographic areas. We combine this detailed electricity generation data with the available scientific data to provide a complete profile of the available energy from the sun at specific locations.
The amount of energy from the sun that strikes the earth is called solar irradiance, measured in power per unit of area. For six months out of the year, Milton Keynes receives solar irradiance of more than 4.1 kWh of power per square meter, per day [1]. That means you'll have plenty of available solar energy to convert into electricity for your home, business, school, or other site. While your site may need to remain connected to the grid, many of our grid-connected clients are surprised by how much of their yearly energy consumption is completely offset by their solar system.
Join a Growing Movement
A growing number of families, schools, businesses, and others have chosen to generate their electricity from the sun [2, 3]. As solar energy systems have become cheaper and more efficient, solar farms that feed into the grid have begun springing up everywhere, including just this year in nearby Flitwick [4]. Cambridge Solar Ltd offers a range of the latest, most effective solar technologies to address any renewable energy goal. Contact us today to schedule a site survey and begin your journey.
Solar Irradiance
The amount of daily sunlight that reaches a particular place on the surface of the earth depends on the latitude of the place, and the time of year. With our northerly latitude here in the UK, we have a wider range of seasonal sun energy than locations along the equator [5]. That means our summer days are much longer, and thus more productive for solar panels. You can see the effects our longer summer sunlight in the plot below, comparing the solar irradiance during the summer months for Milton Keynes (52 degress north of the equator) and Kuala Lumpur, Malaysia (3 degrees north of the equator).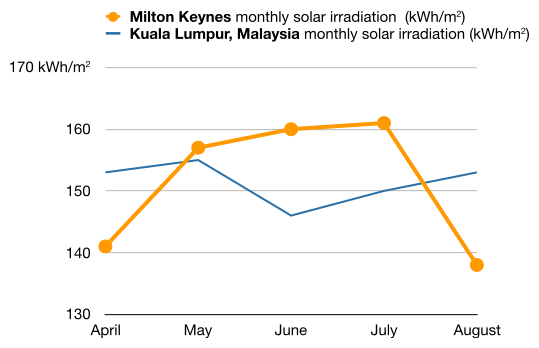 The plot above shows how Milton Keynes receives more energy from the sun during the summer months than a location just 3 degrees from the equator. Of course, during the winter, we receive less sunlight, some of which is obscured by cloud cover. Nonetheless, our cumulative annual solar irradiance at this latitude is solid. In fact, as shown in the map below, the East Anglia area receives significantly more sun energy than the west and north of the UK, which are more often obscured by cloud cover.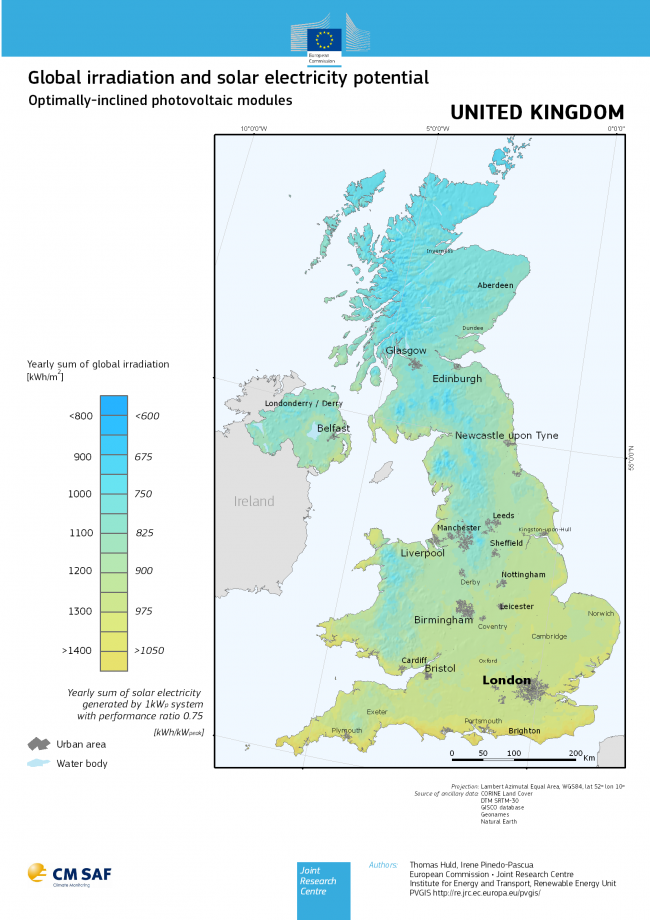 When analyzing a new site, Cambridge Solar Ltd measures latitude, roof angle, shading, and other factors to provide a customized solar trajectory plot so our clients will have the best available estimate for how much solar energy they can produce at their location. Contact us today to schedule a site survey.
A Sound Investment
As an MCS-approved solar panel installer, Cambridge Solar Ltd follows the industry standard, best practices for determining how quickly your solar system will pay for itself in energy savings[6]. Our project proposals show the amount of money you can expect to generate from the Feed-In Tariff scheme [7, 8], plus the amount of money saved by not purchasing electricity from the grid. In our experience with hundreds of systems since 2009, we've found that many high-quality installations even exceed their expected financial returns, paying for themselves in less than half of their warrantied lifetime. See what options best suit your site by scheduling a site survey with us today.
Arrange a Meeting
We are happy to assess your potential for generating solar energy with a free site survey at your location. If you'd prefer to meet at our office, please call ahead on 01908 850 870 to schedule an appointment. Our office location is 500 Avebury Blvd, Milton Keynes MK9 2BE.